John Mackie's books are: "High Intensity. Mackie excels at creating grisly imagery and dissecting intricate police work for lay readers." PUBLISHERS WEEKLY
"To John Mackie: Harry Bosch would go through a door with you, anytime, anywhere...." MICHAEL CONNELLY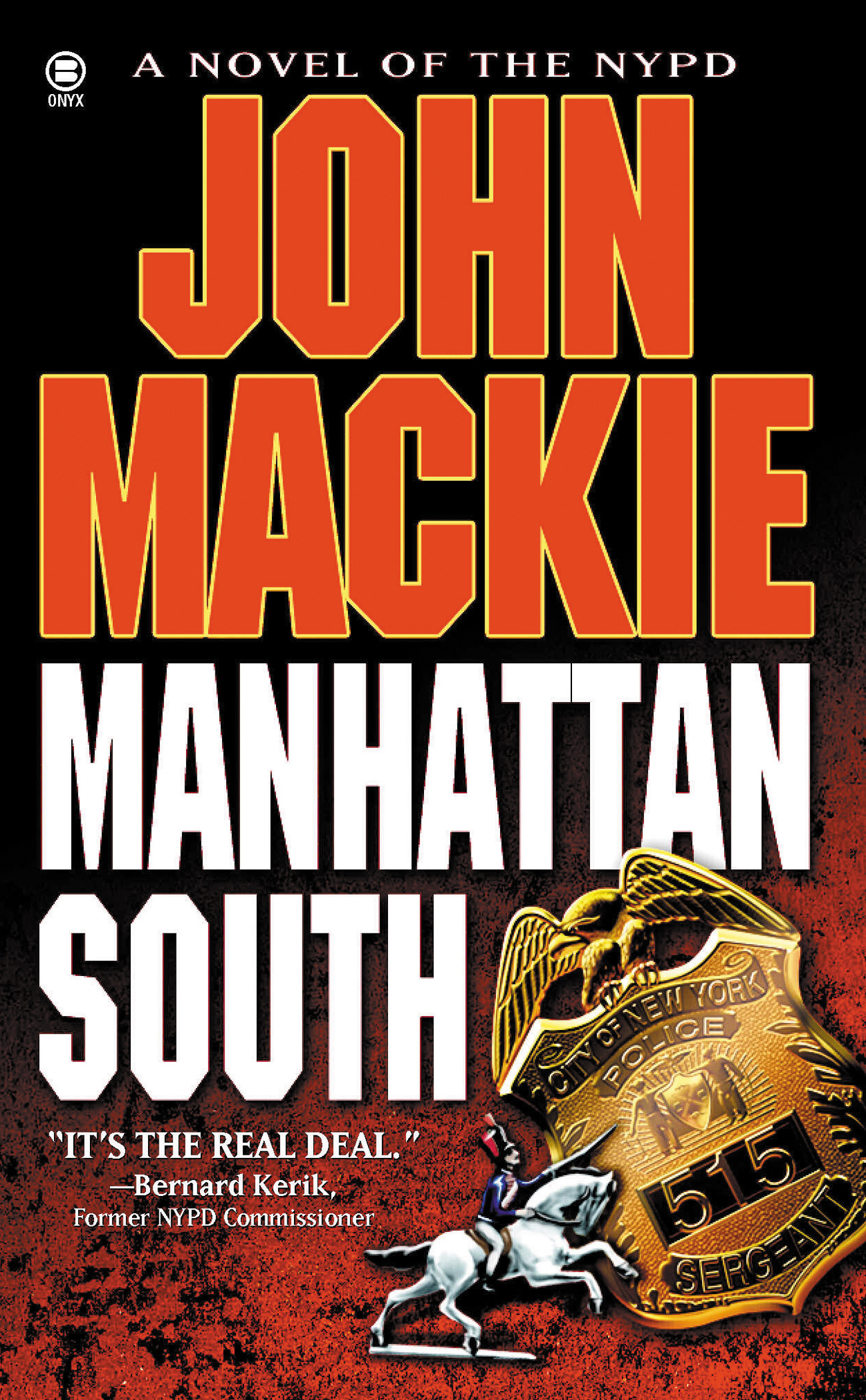 Book #1 in theThorn Savage series: MANHATTAN SOUTH
Welcome to the Manhattan South homicide squad. Today's assignment: a triple murder in a chic Midtown bistro. Three bodies DOA: the bartender, a known mob associate, and the trophy wife of a garment district businessman. A private investigator, hired to follow the woman by her suspicious husband, barely clings to life. NYPD sergeant Thornton Savage suspects more than just adultery--he suspects a professional hit. But the truth is more complicated. The players include the Russian Mafia, a collector of rare toy soldiers, and a United States senator. Even after Savage dispatches two gunmen in self-defense, he believes he has the support of the NYPD behind him. But his buddies on the force can't help him when he becomes the subject of s damning Internal Affairs witch-hunt...and the walking target of an unknown enemy.
To order Manhattan South or submit a Customer Review click on image.
MANHATTAN SOUTH..."The triple homicide that opens this story is so real you can smell the cordite... This is a classy detective story. Funny, articulate, sexy, shocking, full of insider knowledge. The plot moves like a downtown express. Forget TV. If you want to know what it's like to be an NYPD detective, read this. This is real." ED DEE, retired lieutenant, NYPD, and bestselling author of "14 PECK SLIP" and "NIGHTBIRD."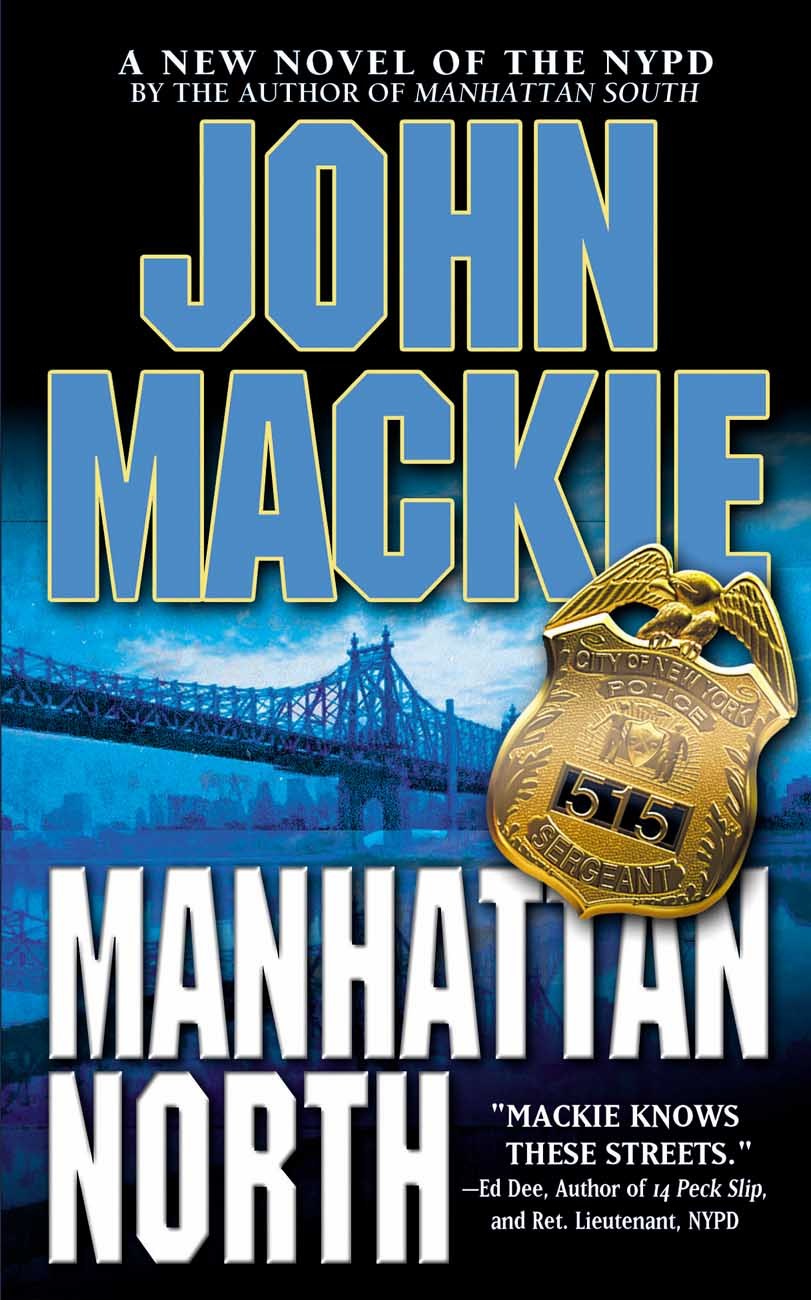 Book #2 in the Thorn Savage series: MANHATTAN NORTH
VICTIM: Horace Grimes, a well-known Harlem drug supplier--found in his custom Mercedes with his hands lashed to the steering wheel and a bullet in his head. SUSPECTS: Murderous club owner Luther Robinson and his senior business partner, the politically connected and seemingly upstanding Derek Ogden, a well-heeled patron of the arts with a secret, vicious past. NYPD:Detective Sergeant Thornton Savage, Manhattan South Homicide. When Savage begins to unravel the drug-world war--leading to the surprise arrest of Derek Ogden--the ruthless Ogden unleashes the deadly talents of his protege on those closest to Savage, making it personal. Now Savage will stop at nothing to see the pair dead--even if it means breaking the law he's sworn to uphold.
To order MANHATTAN NORTH or submit a Customer Review click on image
MANHATTAN NORTH: "Another first-rate procedural from John Mackie..." Book Bitch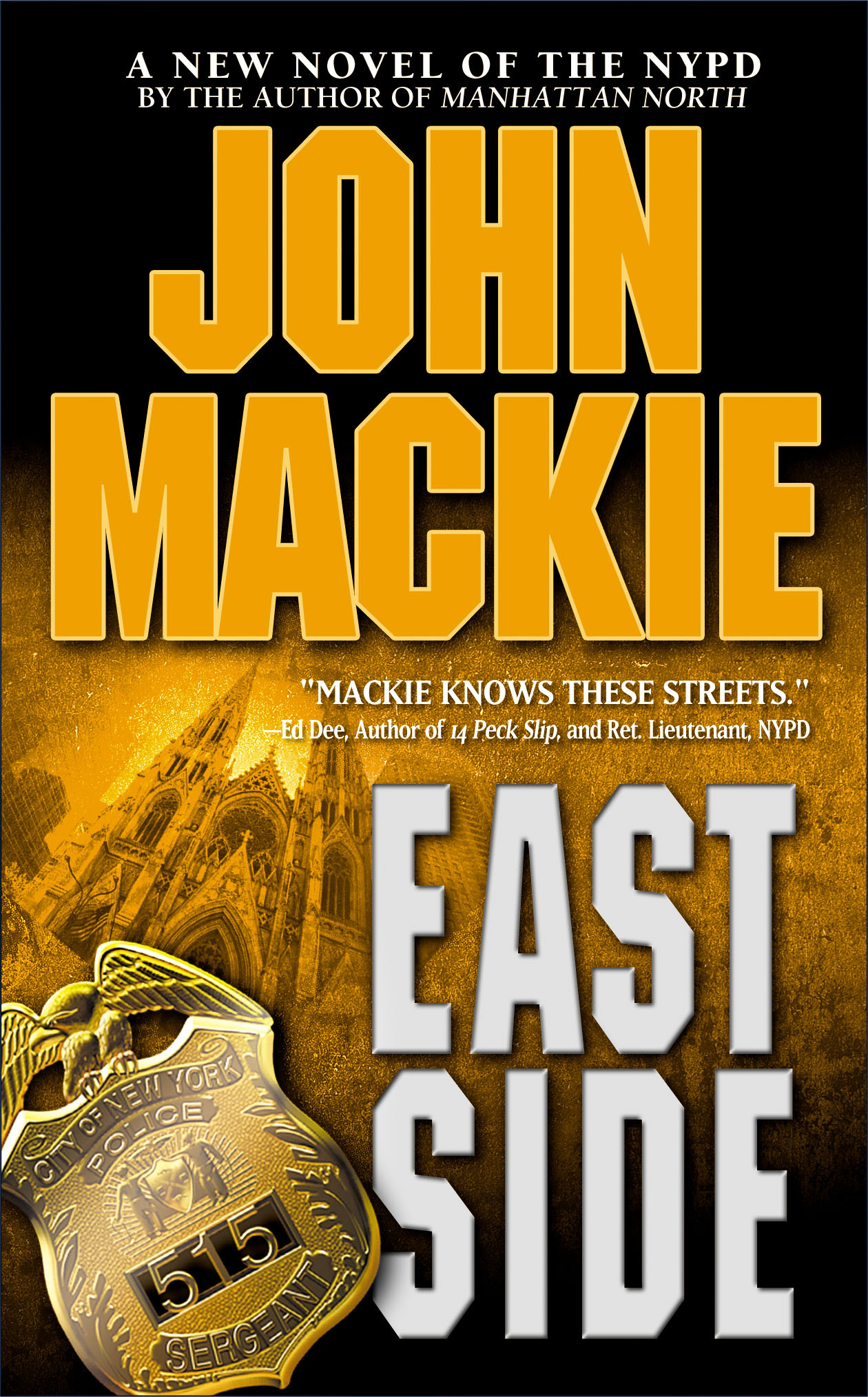 Book #3 in the Thorn Savage series: EAST SIDE
In a small Roman Catholic church on Manhattan's East Side, a man confesses to a life of sin. Seconds later, the priest is dead. Not long after, a second priest is found shot to death on the Lower East Side. With a much heralded papal visit to New York City only days away, there's no doubt in Detective Sergeant Thornton Savage's mind that he's got a serial killer on his hands, one about to put the pope in his crosshairs. Especially when a threatening letter arrives at the New York Post, signed by someone identifying himself as The Soldier.
With the archdiocese, the mayor, and the police commissioner all cranking up the political heat, Savage and the overworked Manhattan South Homicide squad are in a race against time to catch the killer before his cold vengeance strikes again. Nothing will stop Savage and his team--not even when their hard work uncovers something that could being down the whole church....
To order East Side or submit a Customer Review click on image.
EAST SIDE: "It is immediately apparent that John Mackie spent a good deal of his life with the NYPD. His images are vivid and captivate the reader...I refused to put the book down until the very last page." TRACY FARNSWORTH, ROUNDTABLE REVIEWS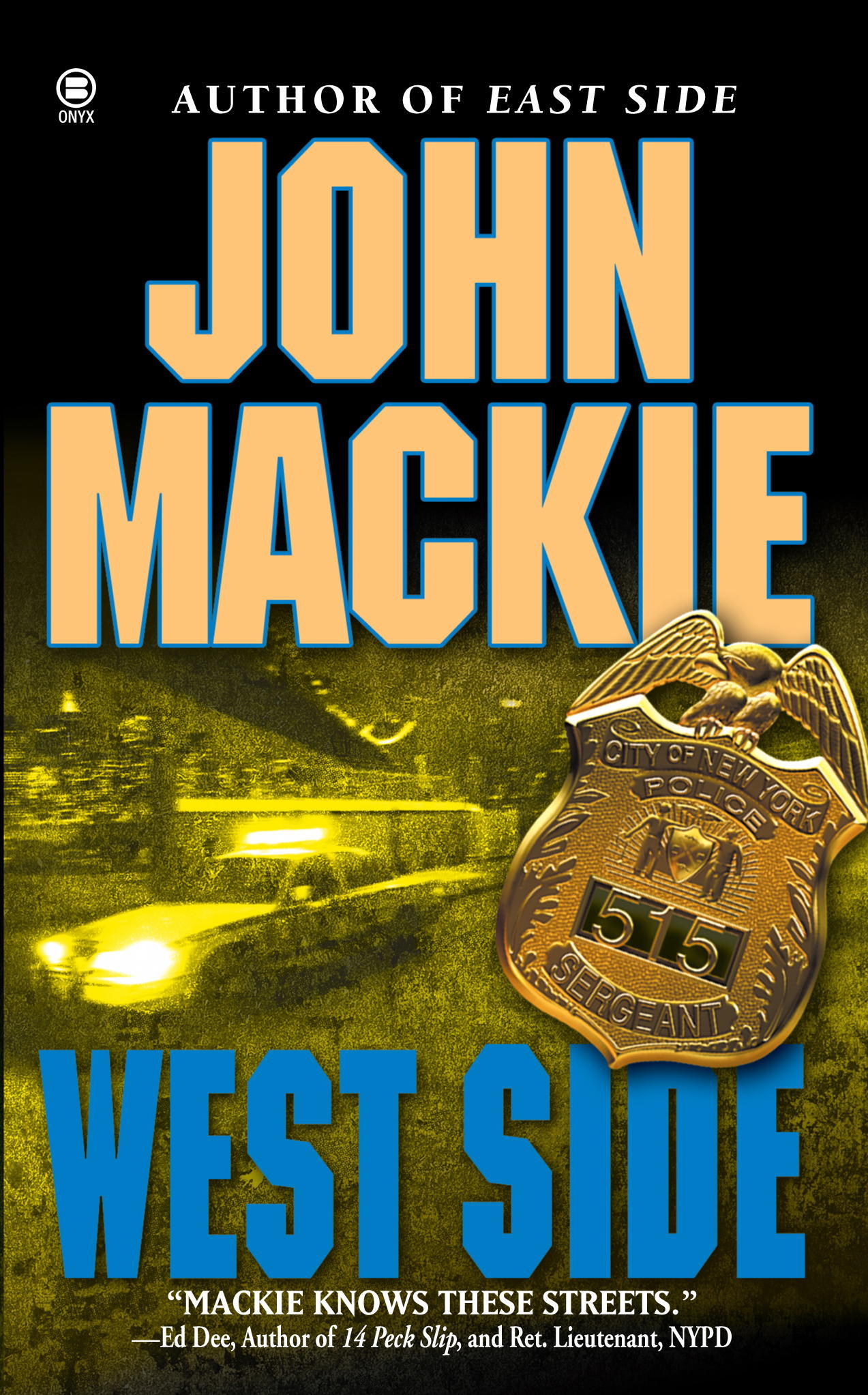 Book #4 in the Thorn Savage Series: WEST SIDE
In a Manhattan bar, two strangers pick up a young man--a soon-to-be-dead look-alike for one of them. Later, when a patient dies in the office of a West Side neurologist, the NYPD demands an autopsy. But the death is ruled a simple heart attack. The body and any potential evidence are cremated, the insurance company pays a million and a half to the beneficiary--and a perfect fraud is complete. But now the partners in crime are thinking that one perfect scam deserves another. All they need is their next victim.
When Detective Sergeant Thorn Savage and his Manhattan South Homicide Squad are assigned to the stalled case, their investigation takes them into the city's seamy underbelly, where dangerous fun--and the answers to an ingenious murder case--await those who know where to find them...
To order WEST SIDE or submit a Customer Review click on image

WEST SIDE: "A gritty walk through New York's underbelly told by someone who obviously has been there...Excellent police procedural...." BOOK BITCH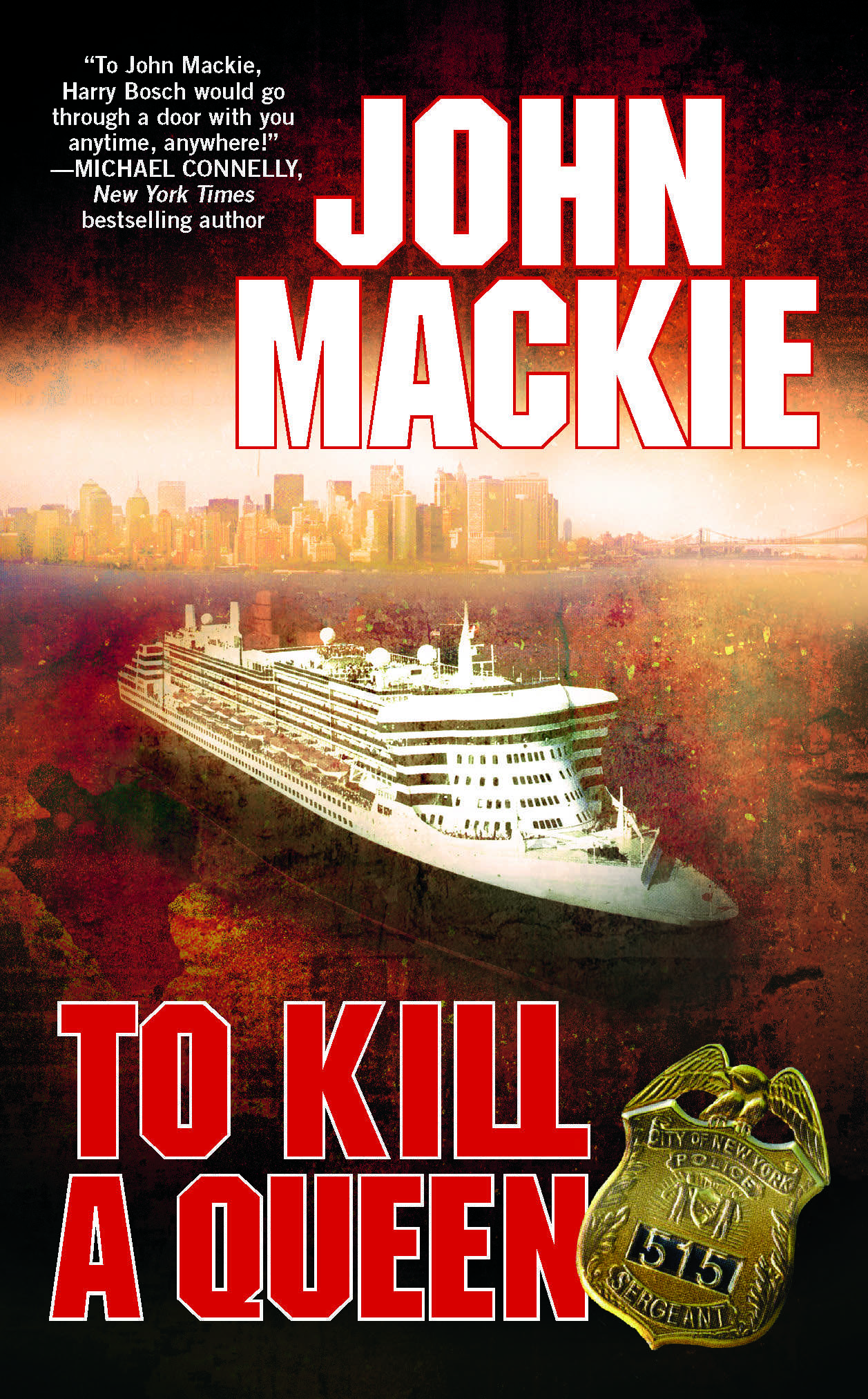 Book # 5 in the Thorn Savage series: TO KILL A QUEEN:
Come along with Detective Sergeant Thornton Savage as he takes a well-deserved vacation from the NYPD aboard the fabulous Queen Mary 2. But strap yourselves in because anywhere Savage goes danger is always lurking. Sometimes the danger comes in the form cold-blooded murderous drug dealers; sometimes via deadly mob assasins. This time it comes in the form of well-organized Jihadist terrorists bent on the high-seas hijacking and destruction of the QM2...and the killing of everything aboard her, with a death toll greater than 9/11. Can one tough, no-nonsense, ballsy New York City cop stand in their way?
To order To Kill a Queen or submit a Customer Review click on image
The author on the top deck of Queen Mary 2 en-route to... somewhere, while writing To Kill a Queen.